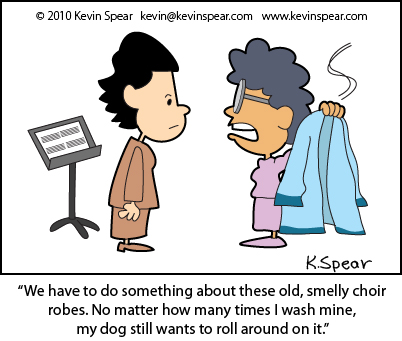 It's been normal practice for RPC members to get their robes cleaned over the summer. You likely have two options for getting out those stains from stepping on the hem (not that I've ever done that!):
Dry clean
. This takes the guesswork out of cleaning them, BUT it can cost a lot of money. In fact, one local establishment charged me for my and my wife's robes when I dropped them off . . . and then demanded extra money for me to pick them up! I no longer use the services of that location. Make sure you know exactly what it will cost to have your robe laundered.
Machine wash
. Most robes should do OK with Woolite (or equivalent) and the gentle cycle, and then air drying; check the tag if there's one (if there isn't, prepare for a visit by the Tag Police). BUT chances are you'll have to use an iron also. Don't set the iron too hot!
Some members simply reuse a dry cleaning bag to protect their robes. Or you can find a "
dress bag
" to keep the robe in. Our bag lasted for about 4 years before it got too ripped to use.
Here are
some other hints
for robe care.